John B. Moore Documentary Studies Collaborative

MDOCS draws from Skidmore's teaching faculty, staff, and professional documentarians to deliver courses in documentary traditions, theory and methods.
---
Cecilia Aldarondo, English - Documentary Film
Cecilia Aldarondo obtained her M.A. in Contemporary Art Theory from Goldsmiths College and her Ph.D. in Comparative Studies in Discourse and Society from the University of Minnesota. Her personal documentary Memories of a Penitent Heart has been supported by grants and fellowships from the MacDowell Colony, the Sundance Institute, the Time Warner Foundation, Firelight Media, and the National Association of Latino Independent Producers. In 2015 "Memories" was selected for IFP's Independent Filmmaker Labs as well as Sundance Institute's Edit and Story Lab. She recently accepted a position as Assistant Professor of Film Studies at Skidmore College and has been named by FILMMAKER Magazine as one of 2015's "25 New Faces of Independent Film."
---
Susan Bender: Oral history and archaeology
Susan Bender is a Skidmore Professor Emerita. During her tenure at the College (1982–2010), she taught courses in archaeology within the anthropology program and directed students in archaeological field studies in Colorado's Rocky Mountains. Since her retirement she has continued her Colorado research program in collaboration with Skidmore alumni. Professor Bender has also taught interdisciplinary museum studies courses and co-curated an exhibition on mapping at the Tang Museum. For the past year, she has coordinated Skidmore's Retiree Memory Project, an initiative designed to record and archive the recollections of faculty and staff who worked at the College over the second half of the 20th century.
---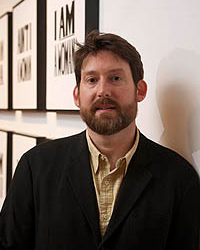 Ian Berry, Dayton Director, Tang Teaching Museum: Gallery curation and museum exhibition
Ian Berry is Dayton Director of The Frances Young Tang Teaching Museum and Art Gallery at Skidmore College. Berry has organized over ninety museum exhibitions including interdisciplinary collaborations on subjects from the Hudson River to Shaker furniture, and monographic exhibitions with artists such as Terry Adkins, Nicole Eisenman, Nancy Grossman, Jim Hodges, Nina Katchadourian, Corita Kent, Nicholas Krushenick, Shahzia Sikander, Amy Sillman, Fred Tomaselli, and Kara Walker.
Berry received his MA from the Center for Curatorial Studies at Bard College in 1998 and served as assistant curator at the Williams College Museum of Art before coming to Skidmore in 2000. In his role as professor of liberal arts, he teaches the art history seminar "Inside the Museum" and is a frequent guest speaker for a wide variety of academic departments. Berry is also the author and editor of many volumes devoted to contemporary art practice.
From 2006 to 2012 Berry served as consulting director of the Emerson Gallery at Hamilton College and in 2009–10 was the Roy Acuff Chair of Excellence in the Creative Arts at Austin Peay University. He serves on the Saratoga Springs Arts Commission, has chaired the Visual Arts Panel of the New York State Council on the Arts, and serves on several advisory committees for regional and national arts organizations.
---
Nicole Coady: Screenwriting
With over 20 years of screenwriting experience, Nicole Coady has written for such companies as MTV, New Line Cinema, and 20th Century Fox. In addition, she authored two video games for the top-selling toy company MGA. Currently she is in preproduction on the feature film, The Twelve Dancing Princesses. She is very excited to pass on her years of industry knowledge on how to write successfully for the screen.
---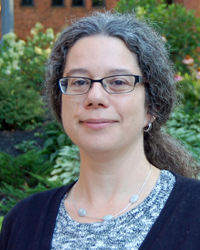 Jordana Dym: Principles of Documentary, Archival storytelling

Jordana Dym is the inaugural director of MDOCS and the Storytellers' Institute (2015-2016) and a professor of history whose research and teaching interests include Latin America, the history of cartography, and public history, with an interest in archival storytelling. She has organized archive-based exhibits and websites working with student collaborators, including an exhibit of declarations of independence in Mexico's national archives (2010) and a Saratoga Springs map exhibit in partnership with the Saratoga Springs History Museum, Public Library and City Historian's Office (2015). In addition to spearheading a public history initiative in Skidmore's History Department, she shepherded the creation of the Latin American Studies Minor program (2002, director 2007-2011), and helped organize the 2004 Skidmore-Saratoga Springs Film Forum Haiti film festival which hosted leading writers and filmmakers on campus. Her publications include From Sovereign Villages to National States: City, State and Federation in Central America, 1759-1839 (2006), an exhibit catalog, Declarando Independencias (Archivo General de la Nación, Mexico, 2010), and five edited volumes, including Mapping Latin America: A Cartographic Reader (with K. Offen, 2011) and organized a 2012 virtual "cartographic conversation" for the John Carter Brown Library (2012). A recipient of several major research grants, including from the NEH (2003-2004) and John Carter Brown Library (2012), she spent 2013-2014 as a Humanities Writ Large Fellow at Duke University, working on The World Displayed: Western Travelers' Cartography, 1450-1930 and exploring digital humanities and documentary studies initiatives.
---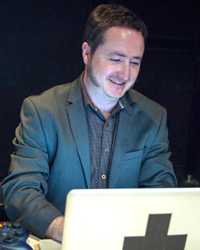 Paul Hembree: Interactive media and experimental music
Paul Hembree is active as a composer, creative technologist, and educator, working in the borderlands between experimental music and interactive media. His recent projects include the score and sound design for Goodnight Traffic City (2017), a game by developer Loren Schmidt and artist Kia Labeija, and Cerebral Hyphomycosis (2016), a duo for real and virtual cellists, premiered by T.J. Borden. His audiovisual improvisation environment, Apocryphal Chrysopoeia (2016), was featured at National Sawdust on the 2016 New York City Electroacoustic Music Festival as part of the New York Philharmonic's biennial celebrations. As a computer musician he has collaborated with many prominent performers of new music, including the JACK Quartet, Irvine Arditti, the International Contemporary Ensemble, Ensemble Signal, and the Callithumpian Consort, on compositions by Pauline Oliveros, Brian Ferneyhough, Kaija Saariaho, and Roger Reynolds, among others. He has a PhD in music, specializing in composition and computer music, from the University of California.
---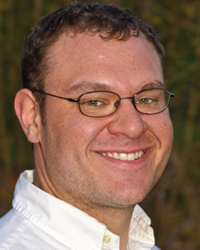 Eric Jenks: Photography
Eric is a photojournalist based out of the Capital and Adirondack regions with a background in photography, videography, and sound. Since 2001 he has actively photographed events, culture, landscapes, and music throughout the world. His current freelance work can be seen in exhibits throughout the Adirondack region and in publications throughout the Northeast. Past publications include National Geographic Adventure, New York Daily News, Saratoga Living, Mountain Lake PBS, the Saratogian, the Times Union, and many more. Jerks has worked for Skidmore College as a freelance photographer and is a Skidmore alumnus.
---
Eileen McAdam: Audio documentary
Eileen McAdam fell in love with sound recording ten years ago when she first put on a pair of headsets, held a microphone in her hand, and pushed the red record button. A whole new world opened up to her, and she has not stopped recording since. In 2006 she co-founded the Sound and Story Project, whose mission is to share the stories of everyday people in the Hudson Valley. Through original recordings and library and museum oral-history collections, she uses the latest digital technologies and new and traditional media to connect people, place, and community through radio programs, audio tours, and new media productions. She is the recipient of three New York Council on the Arts individual artists awards and is currently working on a long format audio documentary about life inside the Bedford Hills Correctional Facility, the only maximum security prison for women in New York State.
---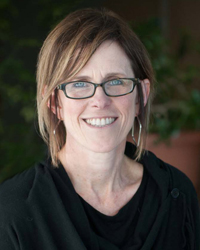 Vickie Riley: Filmmaking
Vickie Riley is a storyteller at heart. An Emmy-nominated producer, she found her way to filmmaking through photography, where she was inspired to put sound to visual imagery. She has been making films ever since. After receiving her master's degree in film and video from Columbia College in Chicago, she began her career editing in Chicago's advertising industry. She was soon producing and directing award-winning documentaries for television. A part of the Skidmore Office of Communications and Marketing, Vickie currently has the pleasure of producing videos telling Skidmore's story.
---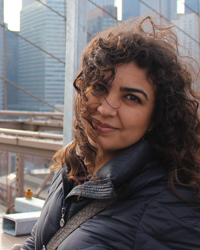 Nicky Tavares: Documentary film and multimedia
Nicky Tavares is a multimedia artist whose work spans from documentary to 16mm film to installation and sculpture. Nicky's work has been shown nationally and internationally in screening room and gallery contexts including New Directors/New Films (the Museum of Modern Art, Lincoln Center), the Institute for Contemporary Art/Boston, TIE: The International Experimental Cinema Exposition, IMPAKT, the Dallas Medianale, the Balagan Experimental Film Series, and the Hudson D. Walker Gallery. Among other honors, Nicky was awarded an Iqbal Fellowship at the Iqbal International Institute for Research and Dialogue in Pakistan, where she conducted research on early Pakistani rock music. She has received two LEF Moving Image Fund Grants, a Massachusetts Cultural Council Grant, and an Austin Film Society Grant. She was a cinematographer for the PBS series Arab American Stories and a visual arts fellow at the Fine Arts Work Center in Provincetown, Mass. She has an MFA in film and video from Massachusetts College of Art and Design. Currently Nicky is directing Son of a Bug, a documentary in production that explores early rock music in Pakistan.
---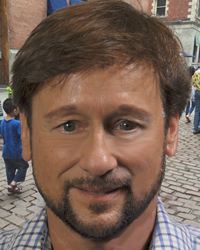 Ron Taylor: Film and Photography
Ron Taylor is a filmmaker and photographer who has worked in the commercial film and documentary industry with many different production houses, including the Maysles in New York City. A graduate of and former teaching assistant at Syracuse University's Newhouse TV and Film program, Ron's work includes commercial films and short films appearing in various festivals and gallery shows. Galleries and festivals in New York include Cheim & Read, Sikkema Jenkins & Co., CRG Gallery, Upstate Independents, Lake Placid Film Festival, and Tribecca Film Festival. For a number of years he taught digital filmmaking in the Skidmore Summer Art Program and is currently with Media Services.
---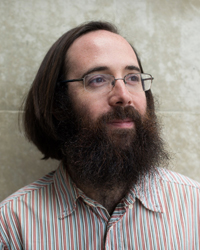 Adam Tinkle: Audio documentary and sound creation
Adam Tinkle creates, teaches, and writes about music, sound, media, and performance. At the center of Adam's work are strategies for artistic engagement, interactivity, and pedagogy that draw on experimental music. In 2010, he co-founded the Universal Language Orchestra, a group of elementary-aged novice musicians that composed, improvised, and built their own instruments. He subsequently created several similarly path-breaking arts education programs across San Diego County, where his collaborations with his students and his audience-participatory works were shown at the Birch Aquarium, the Museum of Contemporary Art San Diego, the San Diego Museum of Art, the Old Globe Theatre, and the Institute of Perception. Before moving to Skidmore in 2014 he was a founding broadcaster on KNSJ 89.1 FM, San Diego's first community radio station, where he led community workshops on radio-making and produced a weekly crowdsourced music and documentary program. His award-winning solo performance A Mess of Things merges radio documentary with songs and video art. In May 2014 his interactive sound sculpture the Shantytown Scrapblaster was permanently installed at the Media Arts Center San Diego. For More: www.riskyforager.com, www.adamtinkle.com
---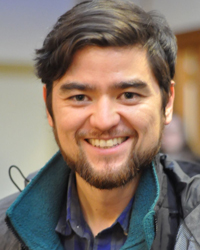 Tom Yoshikami:Film curation and exhibition
Tom Yoshikami completed his MA and PhD coursework in film studies at the University of Wisconsin at Madison, where his research focused on film culture and the history of art house film exhibition. Since 2006 he has been a curator of films for the Madison Museum of Contemporary Art and has programmed for the UW Cinematheque, the Wisconsin Film Festival, and the Tales for Planet Earth Environmental Film Festival. Recently he has advised several UW-Madison student groups who have run a campus movie theater, curated and maintained five gallery spaces, and organized a marquee lecture series.
---
Visit the Fall2017 courses page for full course descriptions, schedules and prerequisites.